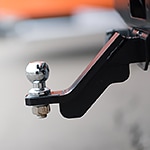 One of the best additions to modern vehicles is increased towing capacities. Being able to tow large loads with a regular-sized SUV or smaller pickup truck gives drivers versatility. Now when you change houses, you don't have to rent a truck to move your belongings.
If you're new to towing, then you might not be familiar with the different style of driving that towing large loads requires. It's important to remember that once your trailer is hooked up correctly and you're out on the highway, you need to be careful when approaching high speeds. Increased weight means increased time to slow down, speed up and maneuver in general.
We'd advise you to stay alert and try to read the movements of traffic around you. Gaining too much speed too fast can lead to trailer sway, which at its worst, can make your vehicle unwieldy and difficult to drive effectively.