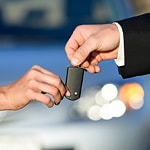 Here is a glossary of the most common auto finance terminologies:

Lessee – This is the person who, under the terms of a lease, is granted temporary access to a vehicle.

Lessor – Provider of short-term access to a vehicle during the course of a leasing arrangement.

Lien – Financing companies have the right to take ownership of a car until a loan is paid in full.

List Price – The vehicle's suggested retail price as provided by the manufacturer. MSRP, or sticker price is also known as MSRP.

Loan-to-value ratio – is often shortened as LTV. The difference between the loan amount and the vehicle's value is expressed as a percentage in this ratio.

Mark-up – refers to the difference between the car dealer's advertised price and the invoice price.

Monroney Sticker – the federally mandated sticker on the window of every new car. Detailed information on the vehicle's options and MSRP may be found on the Monroney Sticker (MSRP).