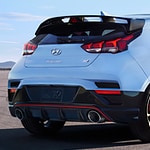 The Hyundai Veloster continues to evolve, tweaking its performance features for better efficiency, more power and precision handling. This three-door hatchback's suite of trend-forward performance features has our team at Bueno Used Cars very excited. Take a look.
Textbook Smooth Suspension
Sail over uneven terrain on Phoenix streets and highways like a pro. It's a breeze when you have the Hyundai Veloster's sporty suspension at your disposal. Across three main drive modes and seven chassis settings, the suspension adapts and adjusts quickly and smoothly, resulting in a buttery-smooth ride feel.
Adjustable Steering
The Hyundai Veloster lets you adjust steering wheel tightness according to the type of driving you plan on doing or the type of driving you prefer. Normal mode yields a light, somewhat loose steering feel. Sport mode boasts steering that's a little tighter than Normal mode steering. The Sport+ mode delivers the most extreme level of tightness. The reduction in power assist gives you more tactile control of steering when driving and cornering at high speeds.