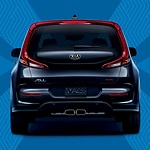 These days, there are a lot of SUVs on the roads around Phoenix. Most of them may seem pretty similar to each other, but there's definitely one that stands out. The Kia Soul is a smaller SUV that's very unique. It has a boxy frame and sits low to the ground, and it has the versatility that many of our customers at Bueno Used Cars are looking for.
The Kia Soul has two available engines. Both of them would are solid options, but the turbo engine is definitely the one to pick if you love the feeling of acceleration. Either way, you'll have good fuel efficiency, and this can help you save money in the long run.
Kia designers were really thoughtful when creating the Soul. The amount of interior space makes the vehicle quite practical, and there are fun, youthful elements everywhere. Plus, there's plenty of advanced technology for people to take advantage of.