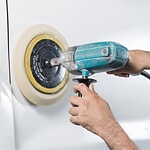 As a vehicle owner, it's important to know as much about your vehicle as possible, and this includes knowing how to properly care for it from under the hood to the exterior, such as what car wax is and how to use it..

What is Car Wax?

Car wax is a product that was made with the intent of protecting and enhancing the paint of your vehicle. It smooths out the surface by filling in any scratches or swirls in the paint with a coating designed to protect it from further damage.

How Do You Use Car Wax?

Once the car is clean, polished, and dry, follow the directions of application of wax you have, then apply a thin layer using small, circular motions. When the wax dries, you will use a soft cloth and rub in circular motions on the surface to remove the wax residue, leaving it shiny.