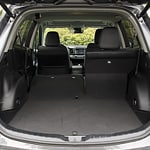 A full-sized SUV makes the perfect purchase for families looking to buy a new vehicle. However, a smaller model would appeal to families and single purchasers alike. To accommodate those shoppers, manufacturers produce the crossover model. Called a compact SUV, the crossover delivers passenger and cargo spaciousness in less-massive design.
One intriguing aspect about the crossover is a unique feature that drives popularity. A crossover comes with a third row designed to carry more passengers. Again, the model is smaller than an SUV but still can transport many people. Of course, the crossover's third-row area could be utilized to transport cargo
Cost also plays a role in directing so many consumers in the direction of crossovers. The vehicle usually comes with lower prices than a traditional SUV. The stylish models also deliver improved fuel economy, which drives down expenses.
How about taking a trip to Bueno Used Cars? You can go on a test drive with a crossover in Phoenix.