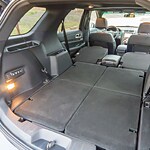 When it comes to purchasing an SUV, most people aren't surprised to learn that they offer more space and seating arrangements. What they may not know, however, is the sundry other benefits that come from being an SUV owner in Phoenix. For that reason, we at Bueno Used Cars are proud to inform you of another great reason you may consider the purchase of an SUV so you can go on to make the most informed automotive purchase possible.
Handling Abilities

? If you are looking to take your SUV with you on vacation, you likely won't regret it. Not only will you be able to cram all your stuff into your roomy vehicle, but no matter what terrain you take on, your SUV is very likely to keep up with you. Planning to encounter some tricky weather or slippery slopes? Make sure the SUV you pick comes with four wheel drive options and all-speed traction control to reap even more benefits while you own the road.
In summary, owning an SUV is just as much about handling ability is it is extra space for your friends, family and cargo. Stop by Bueno Used Cars and take one out for a test drive, today!