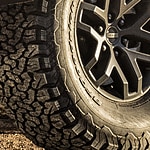 If you have a truck or an SUV, you may be thinking about taking that vehicle off-road. So, how do you get started? Here are some tips to begin your next off-road adventure.
Find Off-Road Forums
You can find many off-road forums that will allow you to ask questions and connect with people who have experience with off-road driving. These forums are usually free and packed with lots of excellent information.

Join Local Off-Road Clubs
? You can join a local off-road club that hosts events where you can get on an adventure with a group. This will allow you to meet with like-minded people and learn more about the best ways to enjoy an off-road adventure.
You can find top off-road equipment for your truck or your SUV at Bueno Used Cars. We offer fast service and competitive prices. We can even install your off-road equipment fast. Contact us today.